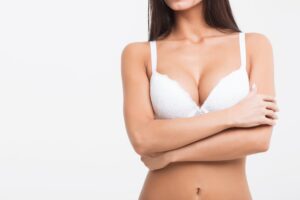 Breast augmentation can produce ideal results for women who want more shapely or proportionate breasts. Breast augmentation utilizes the implementation of breast implants that are selected specifically for your goals and needs. At Premier Plastic Surgery and Spa, plastic surgeon John M. Sarbak, MD is experienced with breast augmentation and utilizes various techniques to realize his patients' dreams. However, many people who seek out breast augmentation are concerned about the potential scarring from the procedure. This blog will detail breast augmentation and your options for a no-scar or a minimally-scarring procedure.
Breast Augmentation: Breast augmentation is designed to recontour, reshape, adjust volume, and revitalize your breasts to your liking. At Premier Plastic Surgery and Spa, Dr. Sarbak offers both silicone and saline breast implants. Both types of breast implants offer their own advantages and both can produce excellent results. Dr. Sarbak is highly trained and has extensive experience with breast augmentation surgery. Therefore, he has been able to master techniques that can reduce the risk of leaving scars behind and is able to utilize strategic incisions during the surgery that can hide or blend these scars.
TUBA: Transumbilical Breast Augmentation (TUBA) may be ideal for you if you want to avoid scarring on your breasts altogether. This method uses an incision within the belly button where scars generally heal faster and tend to be less noticeable. Implants are then placed in the chest area utilizing a carefully placed surgical tunnel from the belly button to the breasts. The TUBA technique ultimately produces no apparent signs of breast augmentation surgery and no trace at all around the breasts. Another technique that is similar is the axillary breast augmentation procedure, which is performed by creating incisions in the armpit. 
For those who want to enhance their breasts but want to leave little to no evidence of the procedure ever happening, Dr. Sarbak can use the TUBA or the axillary technique to avoid any scarring around the chest area. If you believe you could benefit from breast augmentation surgery utilizing traditional methods or the TUBA method, contact our practice today to schedule a consultation!