Mommy Makeover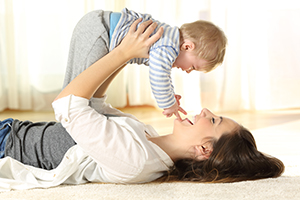 Pregnancy is one of life's miracles. However, pregnancy often brings about certain unwanted changes to your figure that may remain even after the child is born. Childbirth, breastfeeding, and raising children can also impact the appearance of the body. With the help of plastic surgery procedures and non-surgical cosmetic treatments, it is possible to address these physical changes and restore your pre-baby figure. Our plastic surgeon—John M. Sarbak, MD—offers customized mommy makeover procedures that can create beautiful, natural-looking results.
What is a Mommy Makeover?
Many women find that even with a healthy diet and a rigorous exercise routine, fully restoring their pre-pregnancy figure can be extremely challenging. A mommy makeover combines a number of popular surgical and non-surgical procedures to achieve comprehensive body rejuvenation. These treatment plans are custom-tailored by Dr. Sarbak to address each mother's unique cosmetic concerns.
Benefits of a Mommy Makeover
Depending upon which procedures are selected, a mommy makeover can provide a wide range of benefits, including:
A tightened, toned abdomen
Removal of excess skin and fat deposits
Restored breast shape and volume
Reduced appearance of stretch marks
During the consultation process, your plastic surgeon performs a physical exam, discusses your unique cosmetic concerns, and designs a customized treatment plan that can meet your needs.
Video Patient Testimonial

"The most important thing to me is feeling confident in your doctor. Dr. Sarbak answered all of my questions, he was very professional, and his main goal is to give a natural look."
Procedures Performed During a Mommy Makeover
Abdominoplasty (Tummy Tuck)
With the abdomen, our goal is to create a contour approaching what it was prior to pregnancy. A tummy tuck not only excises redundant skin, but can also repair loose or torn abdominal muscles causing the stomach to protrude. In certain cases, tummy tuck results may even look better than your pre-pregnancy shape.
Breast Surgery
Breast feeding, and even pregnancy in general, can bring about alterations in the appearance of the breasts. These changes can include stretched skin, lower nipple position, loss of fullness (especially in the upper region), and overall deflation (sagging). Breast augmentation with implants can be used to restore lost volume and improve the overall shape of the breasts. A breast lift procedure is typically most appropriate, as it can tighten the skin, elevate the breasts, and/or raise the nipples to a more youthful position. Some women may benefit from a combination of both breast surgeries.
Liposuction
Sometimes liposuction techniques can help remove areas of stubborn fat to create leaner, smoother body contours. Many women find that even when they reach a healthy mix of diet and exercise, excess fatty tissue often remains a struggle to lose. Liposuction is ideal for patients who are already at or near their target weight and have elastic skin, but still struggle with isolated fat deposits. This procedure can be performed on nearly any area of the body.
Contact Us
For more information about a mommy makeover, or to schedule a consultation with Dr. Sarbak, please contact our office today.