HydraFacial® Skin Treatments
The HydraFacial® system provides state-of-the-art skin rejuvenating treatments that are gentle, non-invasive, and effective. By combining deep cleansing, exfoliation, and the infusion of specialized skin enhancement serums, HydraFacial can accomplish dramatic improvements in skin tone, texture, health, and clarity to give you a radiant glow. If you have specific skin concerns such as aging, acne, hyper pigmentation, dullness, large pores, sun damage, redness, uneven texture, or dryness, HydraFacial can help you achieve healthier, more radiant skin. At Premier Plastic Surgery & Aesthetics, our experienced estheticians are highly skilled in assessing the condition of your skin, and can design the ideal HydraFacial treatment for achieving your skin goals.
For more information on HydraFacial, please explore the informative sections provided below or contact our practice to schedule your skin assessment and HydraFacial consultation.
What Is HydraFacial®?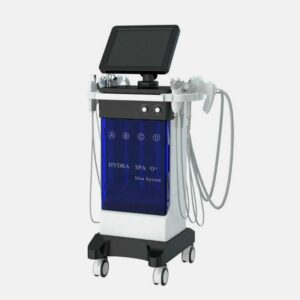 The HydraFacial system is an advanced skin treatment device that utilizes innovative technology and non-invasive treatment techniques to bring about substantial enhancements in the health and appearance of skin. HydraFacial incorporates several stages of skin preparation and treatment using a combination of simultaneous suction and infusion called Vortex-Fusion. While the first stage cleanses and exfoliates skin using HydroPeel® Tips, the second stage removes debris from pores and deeply hydrates skin. In the final stage, the fresh skin is saturated with peptides, antioxidants, hyaluronic acids, and other specialized serum skin boosters to plump and fortify skin, as well as further activate advanced skin improvements. The gentle yet effective nature of HydraFacial treatments make it suitable for a wide range of skin types, and no downtime is required following your HydraFacial sessions. Typically, a series of treatments are recommended to deliver the greatest degree of skin improvements.
What Are the Benefits of HydraFacial® Treatments?
Patients who undergo HydraFacial treatments at Premier Plastic Surgery & Aesthetics enjoy a broad range of skin benefits:
Reduction in wrinkles and fine lines
Plumper, more moisturized skin
A healthier, more radiant glow
Smaller, more refined pores
A reduction in pore congestion and acne breakouts
Evened skin tone and texture
Lightening of dark spots and hyperpigmentation
Improvement in the appearance of sun damage
Enhanced skin elasticity
Smoother, more youthful looking skin
Reduction in skin redness
Removal of complexion-dulling dead skin cells
Fresher, more energized appearance
Additionally, when compared with other types of skin treatments that deliver noticeable results, such as laser skin resurfacing, chemical peels, and microneedling, the HydraFacial treatment offers several notable advantages:
Minimal, if any, post-treatment skin irritation
No downtime required
Treatment is quick – lasting only 30 minutes
No topical anesthetics are needed
HydraFacial can be used to treat the face, neck, and chest, as well as any area of the body
Totally non-invasive – the skin is not penetrated during treatment
No post-treatment skin seeping or crusting
Makeup can be applied soon after treatment to conceal any residual redness
Recommended for a broad range of skin types, even very sensitive skin
Treatment is fully customizable for your skin type and skin challenges
Most patients describe the treatment process as comfortable and relaxing
Who Is a Candidate for HydraFacial®?
Nearly anyone who is interested in having healthier, more radiant, and youthful-looking skin is a potential candidate for HydraFacial! Prior to coming in for your appointment, it is important to refrain from using retinols, exfoliators, peels, and acne products, which can overly sensitize the skin. It is also recommended that you not schedule laser hair removal treatments, laser resurfacing, IPL treatments, or waxing in close proximity to your HydraFacial treatment. Our team can explain when, how, and why these instructions are key to your comfort and treatment success. When you come in for your consultation, our estheticians will thoroughly evaluate your skin to determine if you are a good candidate for HydraFacial. If HydraFacial is the right option for you, your esthetician will develop a personalized treatment plan to address your needs and achieve your goals. If you are not a good candidate for HydraFacial, other options for improving your skin may be discussed. Our goal is always to help you look and feel your best in the safest, most effective way possible!
What Happens During the HydraFacial® Procedure?
To start, the surface of your skin will be gently cleansed to remove any superficial bacteria, oils, dirt, sunscreens, and makeup. Once the skin is prepped, your HydraFacial can begin. The first step in the HydraFacial treatment process is called "Cleanse + Peel"—your esthetician will choose the appropriate HydroPeel® Tip (or tips) for exfoliating the surface of your skin, while a cleansing solution is simultaneously infused into the skin for purification. The next step is called "Extract + Hydrate"—during this phase, painless suction is applied to the exfoliated and cleansed skin to remove stubborn debris and congestion from deep within the pores. At the same time, the skin is infused with hydrating solutions, which soothe and quench the tissue. The final step is called "Fuse + Protect", during which the skin is saturated and infused with booster serums, antioxidants, peptides, and other skin-enhancing cosmeceuticals to achieve specific skin improvements, fortify skin, and create a signature glow. When your HydraFacial is complete, your skin will be moisturized and protected with clinical-grade products to finish your treatment. The entire process takes approximately 30 minutes to complete!
What Results Can I Expect After My HydraFacial®?
You may notice some temporary redness and/or skin tightness following your treatment, and this is completely normal—both should dissipate quite quickly. While you can return to your usual activities right away after treatment, we strongly encourage patients to protect their newly sensitive skin with high-quality, full-spectrum sunscreens. For those who wish to conceal any redness, it is perfectly fine to apply makeup—we recommend using non-comedogenic formulations, if possible. Your esthetician may recommend specific products to use to care for your skin following your treatment to help ensure the highest-quality result. A majority of patients notice improvements in their skin immediately, and results generally continue to improve as the skin fully responds to treatment. For maintenance of your results and further improvements in skin tone, texture, and radiance, additional HydraFacial treatments may be recommended at regular intervals.
Are you curious about HydraFacial? Contact Premier Plastic Surgery & Aesthetics to learn more and schedule your personal consultation.