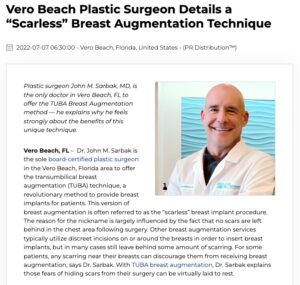 Plastic surgeon John M. Sarbak, MD, is the only doctor in Vero Beach, FL to offer the TUBA Breast Augmentation method — he explains why he feels strongly about the benefits of this unique technique.
Vero Beach, FL – Dr. John M. Sarbak is the sole board-certified plastic surgeon in the Vero Beach, Florida area to offer the transumbilical breast augmentation (TUBA) technique, a revolutionary method to provide breast implants for patients. This version of breast augmentation is often referred to as the "scarless" breast implant procedure. The reason for the nickname is largely influenced by the fact that no scars are left behind in the chest area following surgery. Other breast augmentation services typically utilize discreet incisions on or around the breasts in order to insert breast implants, but in many cases still leave behind some amount of scarring. For some patients, any scarring near their breasts can discourage them from receiving breast augmentation, says Dr. Sarbak. With TUBA breast augmentation, Dr. Sarbak explains those fears of hiding scars from their surgery can be virtually laid to rest.
Transumbilical breast augmentation, as the name suggests, utilizes a strategic incision in the belly button where the implants are inserted and then carried through the body via a pocket created by the surgeon. Dr. Sarbak says he has even more control and accuracy when using the TUBA surgical technique, compared to other breast augmentation methods. As the implants are moved up into position, Dr. Sarbak notes he is able to watch the pockets in the breasts form from the outside instead of relying on memory and feel when it comes to their placement. With this procedure, the implants that can be used are currently limited to saline breast implants. Saline-based implants are completely safe, Dr. Sarbak says, and the internal solution can be naturally absorbed by the body in the rare event that a rupture occurs. While this procedure is known as being "scarless," there will be some signs of surgery inside the belly button, where the incision is made. According to Dr. Sarbak, these marks often heal much faster and are generally much easier to conceal.
Dr. Sarbak is currently the only plastic surgeon in the Vero Beach area that provides this type of breast augmentation. Many who want to avoid having scars on their breasts may seek out this "scarless" service, he says. However, he notes that individuals in his community and surrounding areas may find it difficult to find other plastic surgeons who offer this procedure. Because this is a unique surgery, Dr. Sarbak recommends that patients seek out trained and experienced plastic surgeons who utilize the TUBA technique frequently. He believes the risks that come with any surgical procedure can be greatly reduced when in the care of a surgeon who has extensive experience with the procedure in question.
About Premier Plastic Surgery & Spa
Board-certified plastic surgeon John M. Sarbak, MD leads the Premier Plastic Surgery & Spa in Vero Beach, FL, as medical director alongside Dr. Amy Simon. With a focus on transforming patients' appearance through safe and effective procedures that can produce natural-looking results, the practice offers a wide variety of services. Their catalog includes a long range of offerings from breast augmentation, tummy tucks, and facelifts to non-surgical treatments such as cosmetic injectables and CoolSculpting®. At the practice, the needs of the patients are prioritized, allowing them to have a voice as the comprehensive treatment plan that will shape their new look is created. As members of the American Society of Plastic Surgeons (ASPS), both Dr. Sarbak and Dr. Simon hold the highest standards and maintain the best practices for plastic surgery in order to provide the absolute best care for their patients. Dr. Sarbak and Dr. Simon are available for interviews upon request.
For more information about Dr. Sarbak, Dr. Simon, and Premier Plastic Surgery & Spa, please visit premierplasticsurgeryfl.com and facebook.com/premierplasticsurgeryandspa.
Contact:
Premier Plastic Surgery & Spa
3735 11th Circle, Suite 202 & 203
Vero Beach, FL 32960
(772) 563-0930
Rosemont Media
(800) 491-8623
www.rosemontmedia.com