Renuvion®

Over time, the effects of aging, sun exposure, and genetics may prevent the skin's natural ability to retain firmness and elasticity, which can lead to sagging or "crepey" skin. We are excited to offer the innovative Renuvion® technology, to help diminish these common concerns and restore a more youthful appearance. Renuvion® is the only FDA-approved device for use during aesthetic procedures to improve the appearance of loose skin in the neck and beneath the chin. Utilizing the latest in skin-tightening advancements, Renuvion® can be used to firm and smooth other areas of the body, as well. Dr. John M. Sarbak, one of Florida's leading board-certified plastic surgeons, will discuss your goals and areas of concern to create a customized Renuvion® treatment plan for a beautiful, natural-looking outcome.
What Is Renuvion®?
Renuvion® is designed to tighten excess skin and smooth contours using a groundbreaking technique delivered to the deepest layer of skin, known as subcutaneous tissue. This non-surgical treatment combines helium plasma and radiofrequency (RF) energy in a controlled process to stimulate soft tissue contraction and boost collagen production, which work together to improve the appearance and elasticity of skin.
Renuvion® can be completed as a standalone procedure or combined with other cosmetic enhancements, such as liposuction, to achieve optimal results.
How Is Treatment With Renuvion® Performed?
Generally, Renuvion® is a minimally invasive treatment with little downtime, although general or local anesthesia is usually recommended for most patients. Renuvion® can be used to address various treatment areas, including:
Lower face and neck
Arms
Breasts
Abdomen
Buttocks
Hips
Thighs
Back
Chest
The procedure begins by inserting the slender Renuvion® device underneath the skin through a small entry point to reach the targeted tissue. A precise level of RF energy is then released from the device to heat the tissue (creating a contracting effect) before promptly cooling it with the helium component. The length of treatment time will depend on the size of the treatment area, the number of areas being treated, and any other accompanying procedures.
How Long Does Renuvion® Last?
Patients often notice tighter, firmer, smoother skin immediately following their Renuvion® treatment, which should continue to improve even more over the next six to nine months. Renuvion® is intended to provide results that last for many years and possibly extend even longer by using proper skin care and sunscreen, staying hydrated, and following a healthy diet and lifestyle.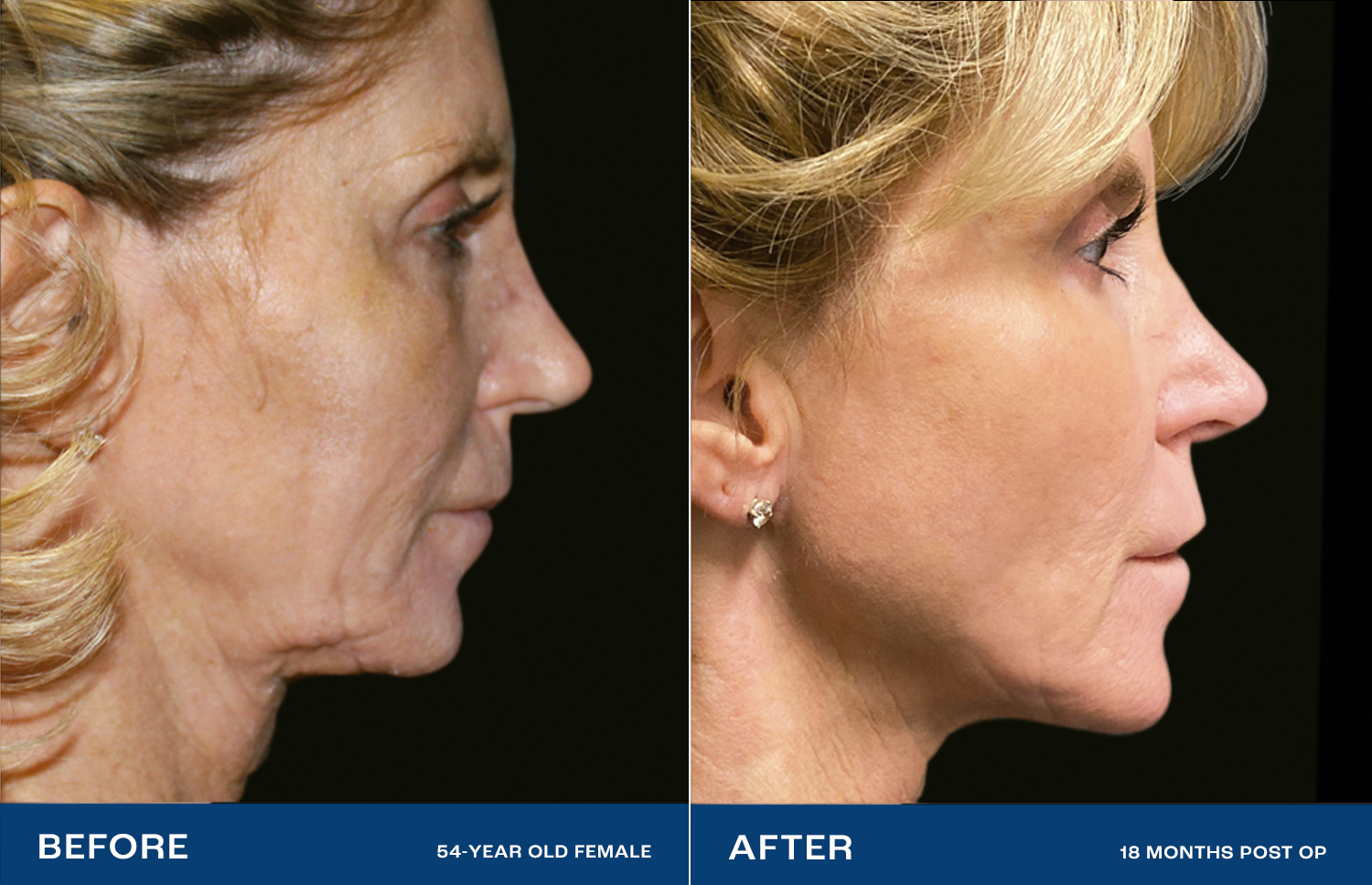 *Photos Provided by Renuvion
What Is Recovery After Renovation® Like?
The most common side effects experienced after a Renuvion® procedure may include minor swelling and discomfort, which should subside after several days. It is important to follow all post-procedure instructions provided by your surgeon to ensure proper, safe healing.
How Much Does Renuvion® Cost?
As Renuvion® is a very versatile procedure, the cost will be different for each patient. There are several factors that contribute to the overall costs, including the level of improvement desired, the number of treatment sites, type of anesthesia used, and other variables. During your initial consultation, Dr. Sarbak will discuss a personalized treatment plan and provide a more precise estimate of costs upon that time. Our practice offers financing through CareCredit® and Alphaeon™ Credit so qualified patients have the opportunity to receive low-interest financing and affordable monthly payment plans.
Please contact us if you would like to learn more about the effective benefits of a Renuvion® treatment or to schedule a consultation with Dr. Sarbak.