Board-Certified Plastic Surgeon John M. Sarbak, MD
Dr. John M. Sarbak is one of Florida's leading board-certified plastic surgeons and he understands that cosmetic surgery is never an easy decision. Dr. Sarbak and his staff take the time to ease all of our patients' concerns. Serving the cosmetic surgery needs of patients in Florida, Premier Plastic Surgery & Aesthetics is dedicated to providing all of our guests with the best techniques in cosmetic and reconstructive surgery. Please contact us today for a consultation with Dr. Sarbak.
Meet Dr. Sarbak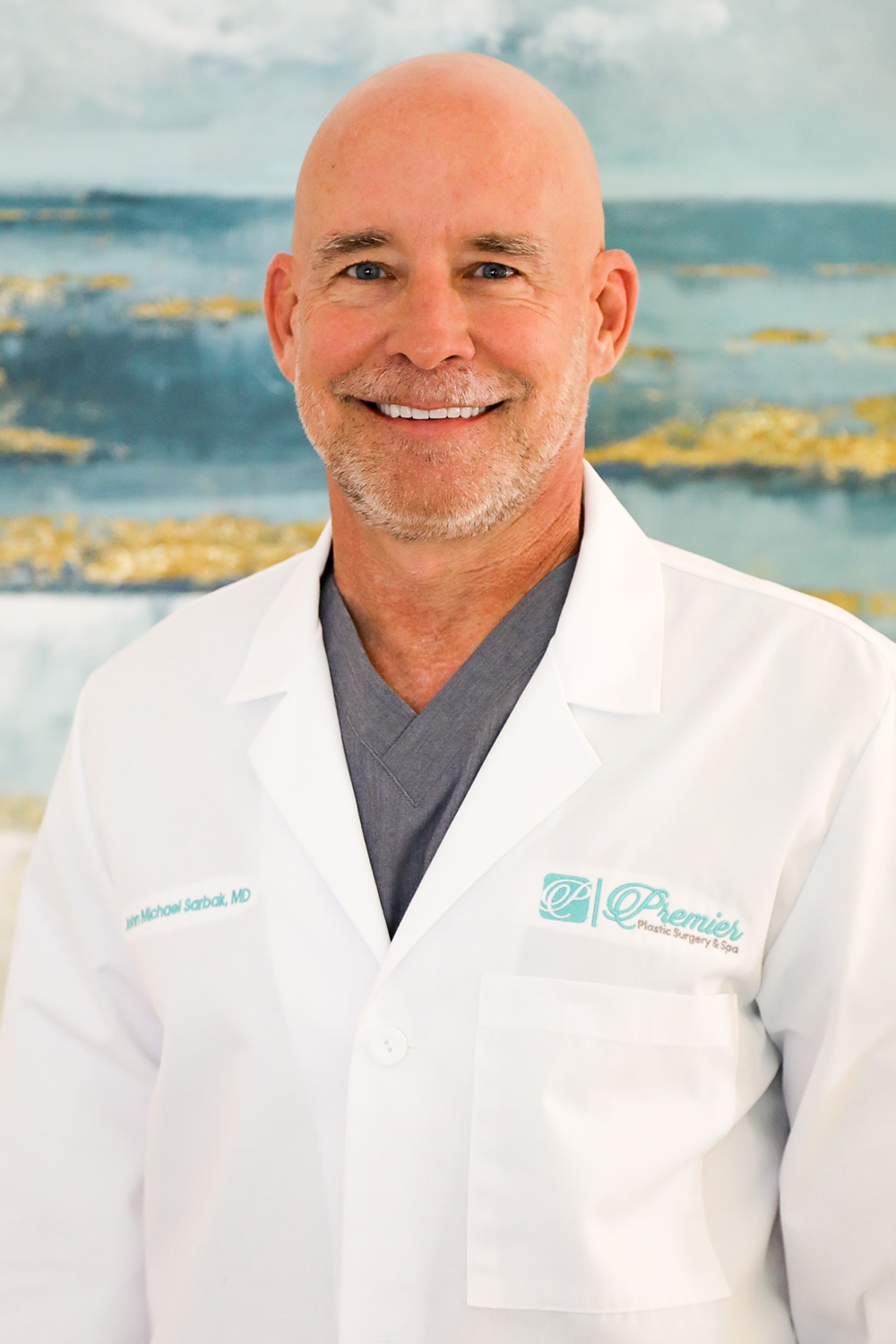 Dr. Sarbak's philosophy is that plastic surgery should be based upon a foundation of excellent training, backed by experience, designed with a strict attention to detail, and overseen by an eye for perfection. Dr. Sarbak understands that each plastic surgery patient is on their own personal journey. He enjoys taking that journey with each patient from the initial consultation through their final healing and beyond.
Dr. Sarbak is highly sought after for his outstanding skill in facelift surgery and other facial rejuvenation procedures. His extensive training in craniofacial surgery has molded his approach to cosmetic surgery of the face. This experience allows him to contour the face on many different levels for results that restore youthful beauty and look natural. His advanced level of skill in facial plastic surgery and reconstruction can be especially important in secondary facelift procedures where other doctors' surgically created deformities must be addressed and corrected.
Dr. Sarbak travels annually to South America donating his time to help Peruvian children with congenital deformities of the lip and palate.
His work in nasal reconstruction has influenced his way of thinking about cosmetic rhinoplasty. Subtle alterations to the nose have the ability to bring about dramatic improvements in both facial harmony and personal confidence.
Dr. Sarbak takes full advantage of new developments in the field of body contouring and has emerged as a leader in high-definition liposuction and gluteal augmentation with fat grafting. He was involved in the early testing of VASER® Ultrasonic Liposuction System and uses this device, along with power assisted liposuction, to create precisely sculpted results for both men and women. Dr. Sarbak's extensive experience performing high-definition liposuction procedures have enabled him to perfect his technique and produce natural-looking outcomes that his patients love.
Dr. Sarbak is also renowned for his breast augmentations. He is one of the most experienced plastic surgeons—in the entire country and world—in a specialized technique known as the transumbilical breast augmentation procedure or TUBA. He has also developed a new procedure called the internal mastopexy that allows for a scarless breast lift in certain select patients.
When he is not in the office, Dr. Sarbak can usually be found out on the sand playing beach volleyball or on the boat with family, enjoying the beauty that our state's waterways have to offer!
Throughout my career as a Vero Beach plastic surgeon, I have embraced the use of advanced technology and techniques to help achieve natural-looking patient results.
Dr. Sarbak and staff are the best all around. The scar from surgery is barely visible. I would highly recommend them. Thanks for the great service
Q&A with Dr. Sarbak
What was your inspiration for becoming a plastic surgeon?

From about the eighth grade on I just knew that I would become a plastic surgeon. I was always fascinated by the human body with its intricate shapes and contours. I love trying to figure out how certain features, which could be vastly different from person to person, can be brought together to create aesthetic harmony and as a result, beauty.

What do you love most about being a plastic surgeon?

The smiles on the faces of my patients after they see their results. Plastic surgery gives me the opportunity to provide positive change to my patients every day.

What sets you apart from other plastic surgeons?

The understanding that each patient starts with a unique set of shapes, curves, and sizes. That allows me to make subtle adjustments to the techniques that I have developed over the past twenty years. My goal is to provide the best results for a patient—to meet their expectations, while also enabling them to still look like themselves.

Are there certain accomplishments or patient cases you are particularly proud of?

I have the best job in the world and love what I do every single day. If I had to choose, I would say I'm particularly proud of my work with Smile Train in Peru helping children with cleft lips and palates. The surgeries are truly life-changing and the people are wonderful and genuinely grateful.

Do you have a favorite plastic surgery procedure?

Rhinoplasty. When a splint comes off of someone's nose after surgery and a patient sees themselves in the mirror for the first time, it is truly a magical experience.

What are you most excited about in regard to the future of plastic surgery?

Plastic surgery is a field that is always evolving. Not many people know this, but throughout history plastic surgeons have been the innovators and problem solvers for all of the other specialties. A plastic surgeon actually performed the first kidney transplant! In the near future, I see the advancement of stem cell and tissue scaffolding research to help rebuild missing structures such as ears and noses. I also see genetic therapies that will eventually turn back the hands of time.
Board Certification
American Board of Plastic Surgery – 2002
Education
B.S. – University of Notre Dame, 1987 – 1991
M.D. – University of Pittsburgh School of Medicine, 1991 – 1995
Surgical Residency – University of South Florida, Dept. of Surgery, 1995 – 1998
Plastic Surgery Residency – University of South Florida, Division of Plastic Surgery, 07/1998 – 05/2000
Plastic Surgery Residency – University of Pittsburgh, Division of Plastic Surgery, 05/2000 – 6/2001
Society Memberships
American Society of Plastic Surgeons
Florida Medical Association
Indian River County Medical Society
The Aesthetic Society (formerly known as the American Society for Aesthetic Plastic Surgery)
Alpha Omega Alpha Medical Society
Florida Society of Plastic Surgeons
Honors & Awards
April 1994: Alpha Omega Alpha Medical Honor Society – Junior Inductee
1994-1995: Office of Secretary, Alpha Omega Alpha Medical Society
May 19, 1995: Brinton Prize (highest scholastic performance for the entire medical course)
May 19, 1995: Ross H. Musgrave, M.D. Plastic Surgery Award
Valedictorian, University of Pittsburgh School of Medicine Class of 1995 – With honors in the following: Anatomy, Histology, Physiology, Biochemistry, Neuroanatomy, Microbiology, Pathology, Medicine, Pharmacology, Genetics, Physical Diagnosis, Medicine, Psychiatry, Pediatrics, Surgery, Anesthesia, Plastic Surgery, and Trauma Surgery.
Outpatient Surgery Center Affiliations
Grove Place Surgery Center
Hospital Affiliations
Cleveland Clinic Indian River Hospital, Vero Beach, FL
Charitable Work
Rotocleft:
Huanuco, Peru – April 2000 Cleft Lip and Palate Mission
Huanuco, Peru – April 2002 Cleft Lip and Palate Mission
Rotocleft, Cirplast, Smile Train:
Huacho, Peru – March 2004 Cleft Lip and Palate Mission
Huacho, Peru – January 2005 Cleft Lip and Palate Mission
Chiclayo, Peru – April 2006 Cleft Lip and Palate Mission
Chiclayo, Peru – March 2007 Cleft Lip and Palate Mission
Zapallal, Peru – September 2008 Cleft Lip and Palate Mission
Chincha Alta, Peru – April 2010 Cleft Lip and Palate Mission
Personal Interests
In his free time, Dr. Sarbak enjoys many hobbies and physical activities, including cycling, cooking, football, painting, running, swimming, t-shirt designing, water polo, water skiing, weight-training, writing, and volleyball.
Why Choose a Board-Certified Plastic Surgeon?
Not all doctors who perform cosmetic procedures are qualified to do so, which makes it very important to choose your plastic surgeon carefully. When looking for a plastic surgeon, we recommend selecting a plastic surgeon certified by the American Board of Plastic Surgery (ABPS). A board-certified plastic surgeon has successfully completed an additional six years of surgical training, with three years specifically dedicated to accredited specialty training in reconstructive and plastic surgery. In addition to these extensive education requirements, board certification also requires that a surgeon pass a rigorous series of exams put forth by the American Board of Plastic Surgery (ABPS). The testing process helps to ensure that plastic surgeons are equipped with the knowledge, experience, skill, and high standard of ethics the profession demands. Continued certification requires re-testing every ten years.
Dr. John Sarbak is certified by the American Board of Plastic Surgery and demonstrates the highest standards of surgical excellence and safety in all areas of practice. He prioritizes the safety, wellbeing, and satisfaction of all patients, and strives to create an environment in which all feel welcome, cared for, and catered to. When you choose our team at Premier Plastic Surgery & Aesthetics, you can feel confident that you have selected a plastic surgeon who is regarded among the top in the field by both peers and patients.