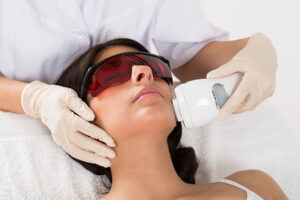 No matter how badly the effects of aging and sun damage may deteriorate the face, laser treatments are among the most powerful approaches to completely renew the tone and texture of your skin. These non-surgical techniques use light-based energy to accomplish a variety of goals, such as eliminating dead skin cells, stimulating collagen production, and encouraging new cell turnover. In general, the results can be the revitalization of healthier-looking skin and a more radiant complexion overall. Patients who receive treatment can often resolve some of the most persistent and common skin concerns experienced, such as: 
Acne and acne scars
Brown spots
Redness and rosacea
Broken blood vessels and capillaries
Spider veins
Large pores
Rough skin tone and texture
Wrinkles and fine lines
Unwanted hair
The lasers and other light-based treatments offered by our Vero Beach plastic surgeon can also reduce the appearance of stretch marks, surgical scars, and freckles on the face and body if desired. Due to the enormous versatility of skin resurfacing lasers and intense pulsed light (IPL) technology, patients of all skin types are typically able to smooth/improve a broad range of aesthetic concerns and completely transform the appearance of rough, damaged skin. 
At Premier Plastic Surgery & Spa, our skincare team utilizes the most advanced laser technology, including Cutera xeo® IPL therapy and the Sellas CIS-F1™ fractional CO₂ resurfacing laser. Contact our office today to book an appointment, or to speak with a friendly member of our team.