How Does CoolSculpting® Eliminate Fat?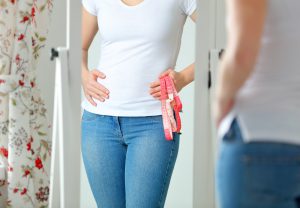 CoolSculpting® is a revolutionary, non-surgical body sculpting procedure that can reduce areas of accumulated fat from the thighs, hips, abdomen, flanks, and back. WIth FDA-approved CoolSculpting® treatment, fat cells are eliminated through a process called Cryolipolysis®, in which fat cells are frozen, damaged, and eventually metabolized by the body. During the treatment session, the specialized CoolSculpting® applicator is placed on the area of excess fat. The suction of the machine draws the skin and fat tissue into the chamber, where it is cooled to a specific temperature that freezes the fat. Surrounding skin and tissue should be left unharmed. The process is repeated until the complete target area has been treated with the CoolSculpting® system.
Fat loss does not happen immediately with CoolSculpting®. It takes approximately two to four months before the full results of CoolSculpting® become apparent. During this time, the damaged fat cells are broken down by the body and filtered out through natural processes, which can result in a gradual reduction of fat volume. Initial results with CoolSculpting® can be further enhanced through repeated treatment sessions in desired areas. With each additional treatment session, CoolSculpting® can likely continue to reduce the thickness of the fat layer. During your CoolSculpting® consultation, Dr. John Sarbak can advise you on the recommended number of treatment sessions for reaching your cosmetic goals. CoolSculpting® generally has a very high rate of patient satisfaction. Men and women who have undergone CoolSculpting® treatment at our practice are often very pleased with the improved contours they achieve.