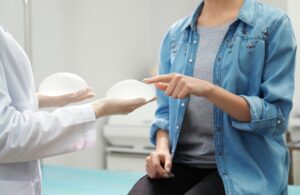 Breast augmentation is one of the most sought after plastic surgery options available to date. The range of benefits are immense and patients are typically left with improved breast size and shape while being provided with a boost to their confidence. One downside to traditional breast implant surgery is the potential for visible scarring.
With most breast augmentation techniques, there will be scarring on and/or around the breasts; however, that is not the case with the transumbilical breast augmentation (TUBA) method. Our board-certified plastic surgeon, John M. Sarbak, MD, is passionate about helping patients achieve the breash enhancement they desire while leaving behind no signs of surgery. With the TUBA procedure, "scarless breast augmentation" is made possible.
TUBA refers to the specific way the breast implants are placed through an incision in the belly button. Continuing on through a pocket that leads to the chest area, the implants can then be placed with accurate and efficient results. Dr. Sarbak has found much success using the TUBA breast procedure, which allows him to have a better view and understanding of the implant placement. By making the incision in the navel, the possibility of having scars on or around the breasts can be eliminated.
The TUBA technique is not currently offered by all plastic surgeons who conduct breast augmentation, making this particular procedure unique. In fact, Dr. Sarbak is the only plastic surgeon in the Vero Beach area who offers this type of surgery. TUBA utilizes saline breast implants which can provide natural-looking results that feel real, as well. If you want to know more about the TUBA procedure or the other procedures our practice offers, please contact us today!