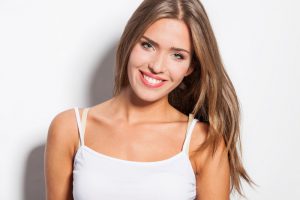 Do you desire the fuller, firmer, and larger bust that breast augmentation can offer, but hesitate out of concern that the result could appear "artificial"? Fortunately, the latest developments in surgical techniques and breast implant types have made achieving results that look and feel natural more likely than ever. One of the most exciting and advanced options available is the anatomically shaped cohesive gel implant. Also called a "gummy bear" or "form-stable" implant, it is specially designed to mimic the teardrop-like contour of the natural breast. Dr. John M. Sarbak, our board certified plastic surgeon, offers this innovative option right here at our state-of-the-art practice.
One of the primary benefits of the anatomically shaped breast implant is its unique composition. Made of cohesive silicone gel, the texture of the implant more closely resembles that of a natural breast. Furthermore, if the implant were to rupture—a rare event—the gel would remain inside rather than leaking out into the body. This also means that the implant can typically hold its shape better over time. Another benefit involves the potentially reduced risk for capsular contracture. This condition occurs when scar tissue forms around the implant, giving the breast a hardened feel.
There is a broad range of advantages that anatomically shaped breast implants can offer, including a more natural-looking outcome. During your initial consultation, Dr. Sarbak can determine if this type of implant is ideal for your unique needs and goals.
If you have questions about anatomically shaped breast implants, please contact our office today. We will be happy to provide more information or help you schedule a consultation with Dr. Sarbak.