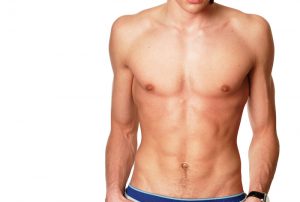 Gynecomastia is essentially the overgrowth or thickening of breast tissue in the male breasts. This condition can develop for a variety of reasons and, while it is commonly first visible during puberty, gynecomastia can develop at any stage of a man's life. Causes of gynecomastia are nearly all hormone-related and can be stimulated by a number of contributing factors, which may include genetics, illness, prescription medications, recreational drug use, weight loss, and/or weight gain. Men with gynecomastia can exhibit a variety of breast attributes ranging from puffy nipples to enhanced breast volume, and even sagging breasts.
Talk to a Physician about Gynecomastia
If you believe you may have gynecomastia and would like to find out more about your condition, talking with a knowledgeable doctor is an advisable next step. Your physician can help determine the root cause of your male breast development and may suggest lifestyle changes, medication adjustments, or non-surgical treatments that could have a positive effect on the appearance of your chest. Oftentimes though, even if breast development is slowed, stopped, or measurably reduced through these methods, troublesome breast tissue, fat, and excess skin can remain. Ultimately, surgical male breast reduction can be the most effective means for achieving a definitive solution for gynecomastia.
Considering Surgical Options for Treating Gynecomastia
When you are ready to explore your surgical options for correcting the appearance of male breasts, feel free to make an appointment with Dr. John M. Sarbak, a skilled plastic surgeon with experience in male breast reduction. During your visit, Dr. Sarbak will review your concerns and perform a physical examination to determine the overall shape and composition of your chest. Dr. Sarbak can then develop a surgical strategy using the most minimally invasive approach possible to achieve the smoother, more masculine chest you desire.
View before and after images of male breast reduction in Dr. Sarbak's results gallery.

Contact Dr. Sarbak for a Gynecomastia Consultation
For more information about gynecomastia and to see if you may be a good candidate for surgical gynecomastia correction, contact Dr. Sarbak's office to schedule a consultation.