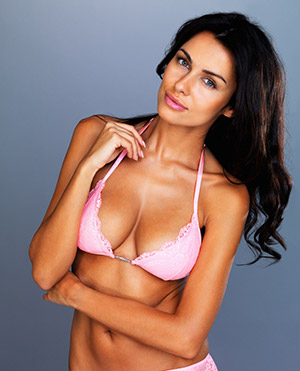 According to the American Society for Aesthetic Plastic Surgery, breast augmentation surgery is one of the most common cosmetic enhancement procedures performed annually in the U.S. Patients may seek breast augmentation surgery to enlarge breasts they feel are too small, restore breast volume after pregnancy or weight loss, achieve better symmetry between the breasts, or simply as a way to enhance their self-confidence. Dr. John Sarbak, one of Florida's leading plastic surgeons, is knowledgeable, experienced, and dedicated to providing superior care and utilizing the best surgical techniques, recently sat down with us to detail what patients can expect from breast augmentation surgery. If you have any questions or are interested in scheduling an in-person consultation, please contact Dr. Sarbak's Vero Beach office today.
Q: What percentage of your patients receive a breast augmentation?
Dr. Sarbak: Breast augmentation has become one of our most common procedures. I am one of only a handful of surgeons in the southeastern United States [who] offers the full complement of breast enhancement procedures, which includes breast reduction, breast lift, breast augmentation with saline or silicone implants, and breast enhancement with fat grafting.
Q: What sets your practice apart from other cosmetic surgeons?
Dr. Sarbak: One of the things that makes us unique is that we perform breast augmentation through all four access sites: within the breast crease, around the nipple, through the armpit, and through the belly button. In certain situations, we are able to augment the breast with the patient's own fat. This fatty tissue is often removed from areas of unwanted excess such as the love handles or the belly, providing a contour improvement as well. Each patient is different and we want to make sure that we can best achieve their goals.
Q: What does the initial consultation entail?
Dr. Sarbak: The initial consultation takes approximately one hour with me, your surgeon. I want to make sure that I understand what you are trying to achieve and then we can figure out together how best to get you there. We take a detailed initial history and discuss in-depth any prior breast surgeries and any family history of breast-related medical conditions. This is followed by a complete physical examination. The conversation then focuses upon your concerns and the ultimate goals. We utilize this information to help you go through the surgical options that are available until we find one or a combination that is most appropriate. We make sure that you are fully informed of the risks and alternatives associated with each approach.
Q: How do you help patients find the right breast implant size?
Dr. Sarbak: Initial implant size choice is extremely important. Nationwide reoperation rates to change implant size is as high as 20% in some studies. Our reoperation rate for implant size change is less than 1%. I attribute this to a sizing system from the Mentor Corporation that we utilize during the preoperative evaluation, and sometimes on the immediate preoperative visit. This sizing system gives the patients an idea of how the breasts will look afterwards in terms of volume. We also spend the time to listen to what you are looking for as a patient.
Q: Are there any other procedures often done at the same time as breast augmentation?
Dr. Sarbak: There are occasions when other procedures are performed at the same time as breast enhancement surgery. Probably the most common is a breast lift in conjunction with implant breast augmentation. Liposuction up to 1.0 L can be performed at the same time as breast enhancement. Again, one of the most intriguing new options is liposuction of areas such as the abdomen, hips, arms, or thighs, and transplanting this fatty tissue into the breast areas.
Q: What can patients expect during the recovery period?
Dr. Sarbak: The quickest recovery in breast enhancement surgery is with placement of breast implants through the belly button. This method provides a shorter recovery time compared to surgical approaches, which require an open incision on the breast. Our patients are encouraged to rest for a couple of hours after they get home. Then they eat a light meal, take 800 mg of Motrin, get in the shower and wash their hair, and then go out for an hour or two. Going out could mean walking around the neighborhood, visiting the mall, or going to dinner. We see everybody the next day to make sure that they are doing well.
Contact Dr. John Sarbak
If you are interested in learning more about breast augmentation surgery, or to schedule a consultation, please contact the office of Dr. John Sarbak in Vero Beach, FL.