Transumbilical Breast Augmentation (TUBA)
This approach gives women the opportunity to avoid scars directly upon the breast. Scars within the belly button tend to heal extremely well leaving little to no evidence of surgery. The only other approach that avoids scars on the breast is the axillary (arm pit) which normally heals well. If it does not this scar can be visible in certain styles of clothing (ie. tube top).
At Dr. John M. Sarbak plastic surgery practice, we have found that transumbilical implant placement to be more accurate, not less, than the other approaches. Other access incisions require the surgeon to create the pocket (space for the implant) while looking inside the body underneath the breast. An attempt to match the opposite side is made by a combination of memory and feel. The transumbilical approach, on the other hand, allows the surgeon to watch the pocket form from the outside as well as the inside. This allows more specific placement of the implant in relation to the nipple and provides the opportunity to compare both breasts directly.
Recovery times seem to be quicker with the transumbilical approach. Our patients will typically go home after surgery, rest for two hours, get up, eat a light meal, take 800mg of Motrin, jump in the shower, wash their hair, and go out of the house for at least an hour (usually dinner or shopping). Patients usually feel pretty normal three days after subpectoral placement and one day after subglandular placement.
Utilizing the transumbilical approach, the implants can be placed above or below the muscle. The vast majority of women are choosing an implant position at least partially below the muscle.
A very small minority (less than 3%) may visualize their abdominal tunnels after surgery. We have not seen this condition last longer than 6 weeks.
At the current time transumbilical breast augmentation is limited to saline implants. As long as the implant diameter does not exceed the breast tissue diameter and the patient has a reasonable amount of breast tissue these implants can provide a very natural result. This approach does not void the patient's warranty. Also saline implants are the only choice for those younger than 22 years of age.
Dr. Sarbak has heard that there are surgeons out there that speak unfavorably about the umbilical approach. He says that he admits that up until 2000, he was one of them. Dr. Sarbak says that it wasn't until I spent time with Gerald Johnson, the inventor of this procedure, that it started to make sense to him. He believes that, unfortunately, the vast majority who speak negatively about this procedure have never actually performed this operation themselves. If a surgeon offers an opinion, patients should ask them how many they have done. Not only have we been performing transumbilical procedures regularly since 2004, we also utilize the other approaches as well. Therefore, Dr. Sarbak believes we have a solid point of reference for comparison.
Results Gallery
Patient Testimonials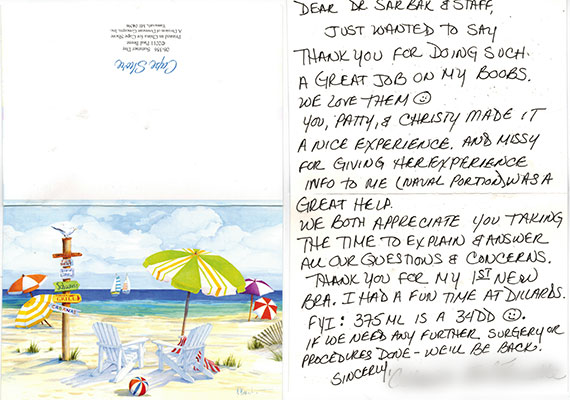 *Individual Results May Vary